Innovative Product Quality Assurance Solution Improves Shipment Data Accuracy.
Project Details:
Client: AmerCareRoyal
Industry: Food Service
Solutions: PIM
AmerCareRoyal is a single stream resource for over 6,000 disposable products used in the food service, janitorial, sanitation, industrial, hospitality and medical industries. They supply a large network of distribution partners across North America through strategically placed warehouses and multiple shipping points.
The Challenge
The company prides itself on efficient customer service and wanted to ensure the right items were being shipped to their distribution partners. For example, a frequently ordered product shipment weighs 10 kg, but if a partner received a shipment weighing only 9.3 kgs, this could mean the wrong product was shipped or the number of items in the shipment could be incorrect. If this happened, AmerCareRoyal's vendor integrity would be in doubt.
We have worked with Torq IT for several years now. Torq has created custom business intelligence tools and system integrations for our business that are core functionality. Torq takes the time to listen and understand what the system requirements are, and provides meaningful real world explanations of potential paths. They then execute these plans into real tools. I highly recommend Torq's services.
Dave Iwankow
Director of Digital, AmerCareRoyal
Our Solution
Torq IT developed an innovative 2-way sizer platform using Pimcore as the backbone of the process. After arriving at the distribution partner, the product shipment is unloaded and carted to the QA area where the barcode on the product case is read and validated by the QA system. The operator then places the product case on a parcel sizer and takes a webcam photo of the product, measures its dimensions, and weighs it. Each scan coincides with a barcode reader scan and is used for barcode validation as well as operator ease of use. The scanning process is quick and operators can scan 100-200 items per hour. Each barcode scan is stored as a unique record by SKU/case size in the PIM system. Historical data for a given SKU can be viewed to show each time the SKU was scanned and data points across scans can then be compared to determine any variance between the new scan and the historical scans. For example, imagery from each scan session is stored and can be used to diagnose any box art issues. If there are variances, the QA operator can create a QA ticket or take another action based on the results.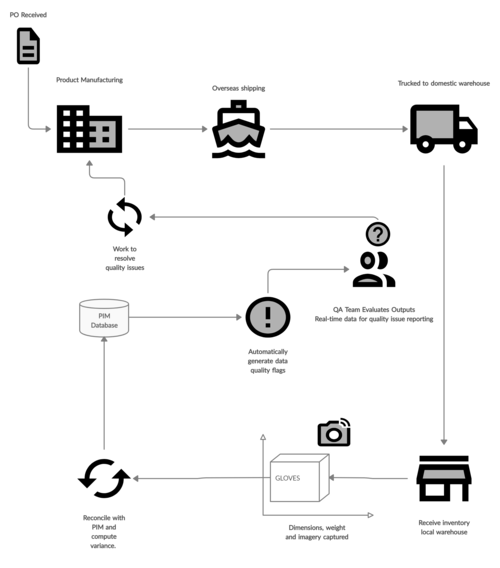 The Results
AmerCareRoyal improved the accuracy of its shipment data, increased its customer satisfaction, and increased its vendor reliability. The 2-way sizer platform gives them indisputable data that can be sent to vendors when there is a QA issue. This puts pressure on vendors to help ensure the quality of orders remains high.
Improved shipment
data accuracy
Increased vendor reliability